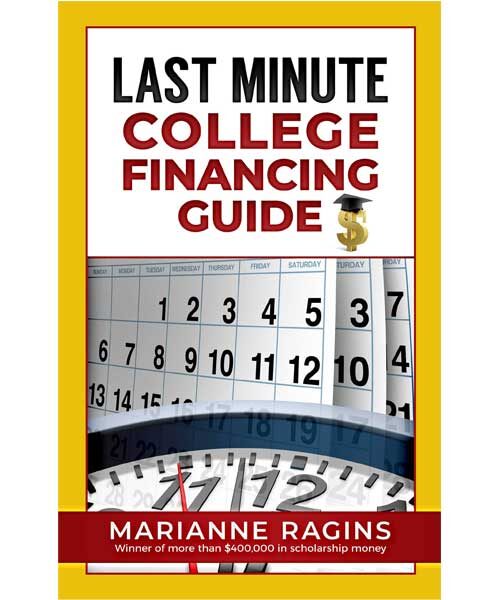 Are you just beginning to look for scholarships and college money? Do you already have an acceptance letter and a tuition bill looming? OR have you won a scholarship or award but still need more funds to pay all your college bills?  If your answer is yes to any of these questions, then you need last minute college funding and the latest edition of our guide can help!
The Last Minute College Financing Guide includes more information about the following funding sources and more:
Community foundations – Community foundations often have later deadlines than some of the larger national scholarship organizations. In addition, the competition may not be as stiff because these foundations are designed to benefit only those individuals who are in a specific locale. Too, many community foundations have scholarships available to students who may have already started college. So even if deadlines have passed for you as a high school senior, you could still apply for one of their scholarships or grants as a college freshman.
Alumni associations – If your future college or university has an alumni association in your community, they may have funding to help students in the local area attend their alma mater.
 Last Minute College Financing Guide can also help current college students look for funding if they've reached the spring semester and need additional funding for the next term or academic year.
Handling Tough Times and Still Thinking About College and Scholarships
As our country and the world struggles to control the spread of this virus, we are truly in uncharted waters. During this time, I wanted to send a few reminders to all of you as we work from home (if possible) and endeavor to continue our learning online (as necessary).
First and foremost, please take care of yourselves, stay safe, and protect others. If you're wondering how, please reference the CDC website or see https://www.coronavirus.gov/.
Always make good decisions that can result in good outcomes. If your goal is to go to college and to get money to help you pay for it, DO NOT LOSE SIGHT OF YOUR GOAL. I believe we will get through this. And I hope you do too. When we are able to breathe freely everywhere (both literally and figuratively), understand that deadlines may not have been extended for scholarships and other great opportunities. So even though school may be closed for the time being, don't lose sight of your goals. Keep working and keep trying! And stay on top of deadlines.
If you can help those who are most vulnerable and in need, PLEASE do it. Not only is it a great community service, it's the right thing to do.
Keep a journal. Write a few sentences (or more) daily about how you're dealing with this crisis, how it's affecting you and others, and also how you're helping others. Not only could it make you feel better to express your feelings, it could be something you incorporate into a future essay you need to submit.
Stay safe and be well.
Marianne Ragins
Upcoming Scholarship Deadlines
FOR CURRENT COLLEGE and high school STUDENTS 
Gloria Barron Prize for Young Heroes
Deadline: April 15
Open to students age 8 to 18.
"One Planet, Many People" Video Contest
Deadline: May 16
Up to $1000 for high school seniors and current college students. Funds can also be used by international students and for study abroad
Deadline: June 5
Up to $5000 available to high school seniors and current college students
To get more upcoming deadlines, see
Learn How to Write College and Scholarship Essays
ANYTIME With Our  NEW Online Learning Course for Writing Essays
This online learning course guides you through the essential steps of creating standout essays to help you win scholarships and get into your dream college or university. See
this page
to get started today.