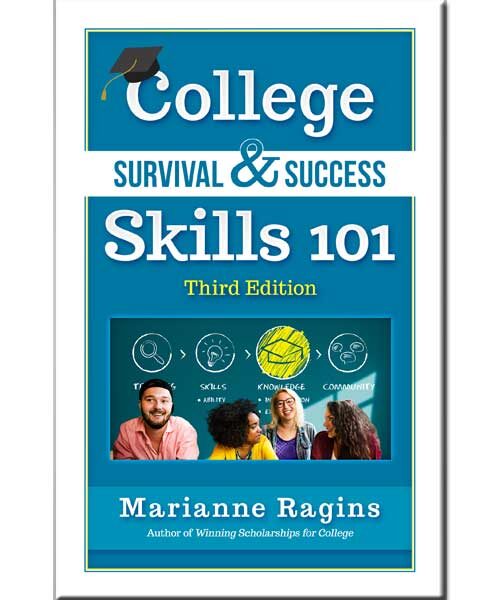 Do You Know How to Manage Your Time Wisely As A Student?
This edition of our newsletter includes information students can use to help them manage time wisely. This is one of the biggest pitfalls students face, in high school and in college. 
Also during this time, many of you may be learning online with multiple distractions at home due to the COVID-19 pandemic. So it's even more important to manage your time wisely and make the most of the additional hours you might have due to the lack of sports and other extracurricular activities in which you might normally be involved. B

eware of being sucked into the many distractions and methods of procrastination such as social media or texting as well.
Start each day, week, and month with a task list. Cross off tasks as you complete them.

Carry an electronic organizer with an audible and/or visible reminder feature for important tasks. Or use your smart phone or tablet alarms and alerts to keep you on track.

Break complex assignments or projects into smaller bite size segments that are easier to handle. For example, if you have a major research project due in one month, small tasks leading up to the actual project could be discussing the assignment with your professor or teaching assistant, visiting the library online and obtaining books on the subject area, or researching relevant web sites.

Reward yourself for staying on task. If you complete all or the most important tasks on your list for the day or the week, have a virtual hang out with friends. 

Don't procrastinate. Dive into an assignment as soon as possible. It is much better to start early and complete a dreaded assignment over a period of time which allows you ample opportunity to get help than to avoid an assignment for weeks, throw it together, have limited or no time to get assistance, or worse – don't get the assignment done at all

.
Marianne Answered Dozens of Questions
for Students AND Parents at the
Virtual Scholarship Q & A!
Can you start your scholarship search too late?
Y
es. If you're hoping to win a full ride scholarship, late spring and early summer of your senior year is too late. Scholarships are still available at this time and may be easier to win, so they shouldn't be ignored but the amounts you can win may be smaller. All hope isn't lost though. You can still win additional scholarships if you're already enrolled in college.
Marianne provided strategies during the Q & A for finding scholarships NOW, even for high school seniors and current college students. Two strategies were to explore local scholarships through community foundations in your area and to use an advanced Internet search to find specific scholarships to fit your situation and student status. Marianne showed screenshots during the Q & A for how to do this.  
When can I apply for scholarships?
For many scholarship programs you can't actually apply until you are a high school senior. However there are some that you can apply for in your junior year or before. It is important to know the requirements and deadlines when applying for college scholarships. The most important thing you should remember is to be prepared to submit applications early in your senior year by doing most of your research as a junior or during the summer before your senior year. And, don't ignore scholarship and award opportunities as a 9th, 10th, or 11th grade student. Scholarships available to you in these grades are identified in 
Senior Year Head Start
 and in 
Winning Scholarships for College.
Did You Know?
Some scholarships with upcoming deadlines may require information such as a transcript or a counselor's signature. If your educational institution is not currently open due to COVID-19, don't assume you can not apply. Contact the organization to inquire about exceptions. Many organizations are waiving certain requirements due to the current situation. 
Our Ragins/Braswell National Scholarship Deadline Has Been Extended
To aid our students who qualified for the Ragins/Braswell National Scholarship through attendance at a 
workshop presentation or scholarship boot camp presented live or
online
by Marianne Ragins for the 2019/2020 
scholarship application period, we are extending our April 30 deadline to July 31. You are eligible for the 2019/2020 scholarship 
if you attended a presentation between the dates of April 30, 2019 and July 31, 2020.
Note: Applications for this scholarship were provided to you along with handouts at the presentation location. If you attended an online scholarship class or boot camp with Marianne Ragins, they were provided as part of your handouts for the online session.
Please do not e-mail us for a copy of the application.
Upcoming Virtual Scholarship Classes and Scholarship Boot Camps 
Attendees of all virtual online classes and boot camps become eligible for the Ragins/Braswell National Scholarship.
Scholarship eBooks are Available
If you want to keep your social distance by reading an eBook (staying in and not venturing out to a library or store) or you just love the convenience of digital information, many of our resources are available for immediate download on Kindle, Nook, and other e-readers. See this page for more information. 
What Can You Do About
College and Scholarships During This Pandemic?
As our country and the world struggles to control the spread of this virus, we are truly in uncharted waters. During this time, I wanted to send suggestions to all of you as we work from home (if possible) and endeavor to continue our learning online (as necessary).
First and foremost, please take care of yourselves, stay safe, and protect others. If you're wondering how, please reference the CDC website or see https://www.coronavirus.gov/. 
Always make good decisions that can result in good outcomes. If your goal is to go to college and to get money to help you pay for it, DO NOT LOSE SIGHT OF YOUR GOAL. I believe we will get through this. And I hope you do too. When we are able to breathe freely everywhere (both literally and figuratively), understand that deadlines may not have been extended for scholarships and other great opportunities. So even though school may be closed for the time being, don't lose sight of your goals. Keep working and keep trying! And stay on top of deadlines.
If you can help those who are most vulnerable and in need, PLEASE do it. Not only is it a great community service which is excellent for boosting your scholarship potential, it's the right thing to do

.

The Scholarship Workshop and Marianne Ragins have donated to organizations to provide free lunches to healthcare workers.
Keep a journal. Write a few sentences (or more) daily about how you're dealing with this crisis, how it's affecting you and others, and also how you're helping others. Not only could it make you feel better to express your feelings, it could be something you incorporate into a future college or scholarship essay you need to submit.
Read. Even if you can't visit your local library or a bookstore, you can read an eBook. Many local libraries provide access to Libby, Hoopla, and Overdrive where you can read thousands of eBooks. In some cases, you can watch movies too. See this article about reading ebooks through your local library.
Take a virtual tour of your future college or university

.

Even though you may not be able to visit some of your options in person, you can see a lot.

YouVisit

is one option that allows you to do this.    
Stay safe and be well.
Marianne Ragins
Upcoming Scholarship Deadlines
FOR CURRENT COLLEGE,  high school and younger STUDENTS (elementary and middle)
Early application deadline: May 22
Regular application deadline: September 11
$20,000 to $50,000 MERIT scholarships available to high school seniors. This scholarship has a limit of 3000 applications. Apply EARLY. If 3000 applications are received before the deadline, the application window will close. 
Up to $5000 available to high school seniors and current college students.
$1000 scholarship open to high school seniors or current college students who write an essay of up to 500 words about 
some of the problems we face on the roads.
To get more upcoming deadlines, see 
Do You Need More Information? 
Get One of Our Popular Student Resources 
on Amazon, Barnes & Noble or Our Bookstore
– Everything you need to know about winning NOT just finding scholarships.
Helps slow starters get their essays started AND finished.
 *Note: We participate in Amazon Associates.
25% OFF RESOURCES AND VIRTUAL CLASSES
Get 25% off any resource or virtual web based class. Use coupon code: 5MEM25
Coupon does not apply to resources, online learning courses or classes currently on sale. 
Offer Expires 5/26/2020.