Your research is done and your applications have been submitted–now it's time to prepare for interviews. For scholarship awards ranging from $50 to $1,000, usually nonrenewable, interviews are generally not required. However, for many college/university-sponsored as well as large corporate sponsored scholarships an interview (sometimes more than one, depending on how steep the competition) is typically the final step. If you have made it to the interview stage you've probably managed to impress at least one person on a scholarship review committee. That's great! Now let's get you prepared for answering interview questions. 
The answers you give should be well thought out. When you are asked a question, take a few seconds to contemplate your response and then give a well-prepared answer. In addition, always try to use positive, decisive words. Take every chance possible to show your leadership skills, potential, and self-motivation in your answers. 
When answering questions, do the following:
Outline the situation
Explain your action 
Whom did it benefit – you or someone else? 
For example, the question or subject could be, "Tell me about yourself." 
Your answer following these instructions could be: 
I am a highly motivated individual. 
For example, I have organized several book drives for the Happy Sunrise Senior Citizens' Home in Macon for the past three years. 
As a coordinator for this activity, I have honed my leadership and interpersonal skills, which will really help me as a student at XYZ College and in the future. But most important, I've been able to donate thousands of books through my efforts that have really helped to brighten the days of those at the senior citizens' home.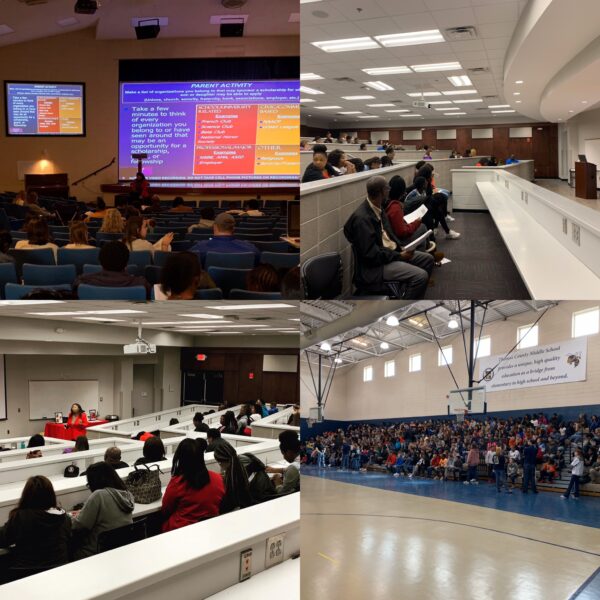 Over 1000
Thomas University GEAR UP-South GA and Pre-College
Students and Parents
Attended a Workshop or Presentation with Marianne in Late February!
Learn How to Write College and Scholarship Essays
ANYTIME With Our  NEW Online Learning Course for Writing Essays
This online learning course guides you through the essential steps of creating standout essays to help you win scholarships and get into your dream college or university. See
this page
to get started today.