Attend The Scholarship Workshop at Mount Zion Baptist Church
If you are interested in attending the The Scholarship Workshop on September 21, 2019 from 9 AM to 12 PM at Mount Zion Baptist Church, 3500 South 19th Street in Arlington, Virginia 22204, please click here or the button below to register.
Visit this page to see a quick scholarship video about Marianne Ragins and The Scholarship Workshop.
You can also download a flyer to share with others.
We look forward to seeing you on September 21!
Don't forget! There are 2 scholarships available to all those who attend!
REGISTRATION HAS CLOSED FOR THIS FREE EVENT. YOU CAN STILL ATTEND BUT WILL NEED TO REGISTER AT THE EVENT IF SPACE IS AVAILABLE.
YOU CAN ALSO CONSIDER AN ONLINE PRESENTATION WITH MARIANNE. SEE THIS PAGE.
AND REGISTER FOR OUR NEWSLETTER TO LEARN ABOUT ADDITIONAL LIVE PRESENTATIONS.
 Save the Date and register for the Essay Writing Workshop for Scholarships and College on October 19! See this page to register: www.scholarshipworkshop.com/mzbcessay.
Wondering if you should attend both? YES!!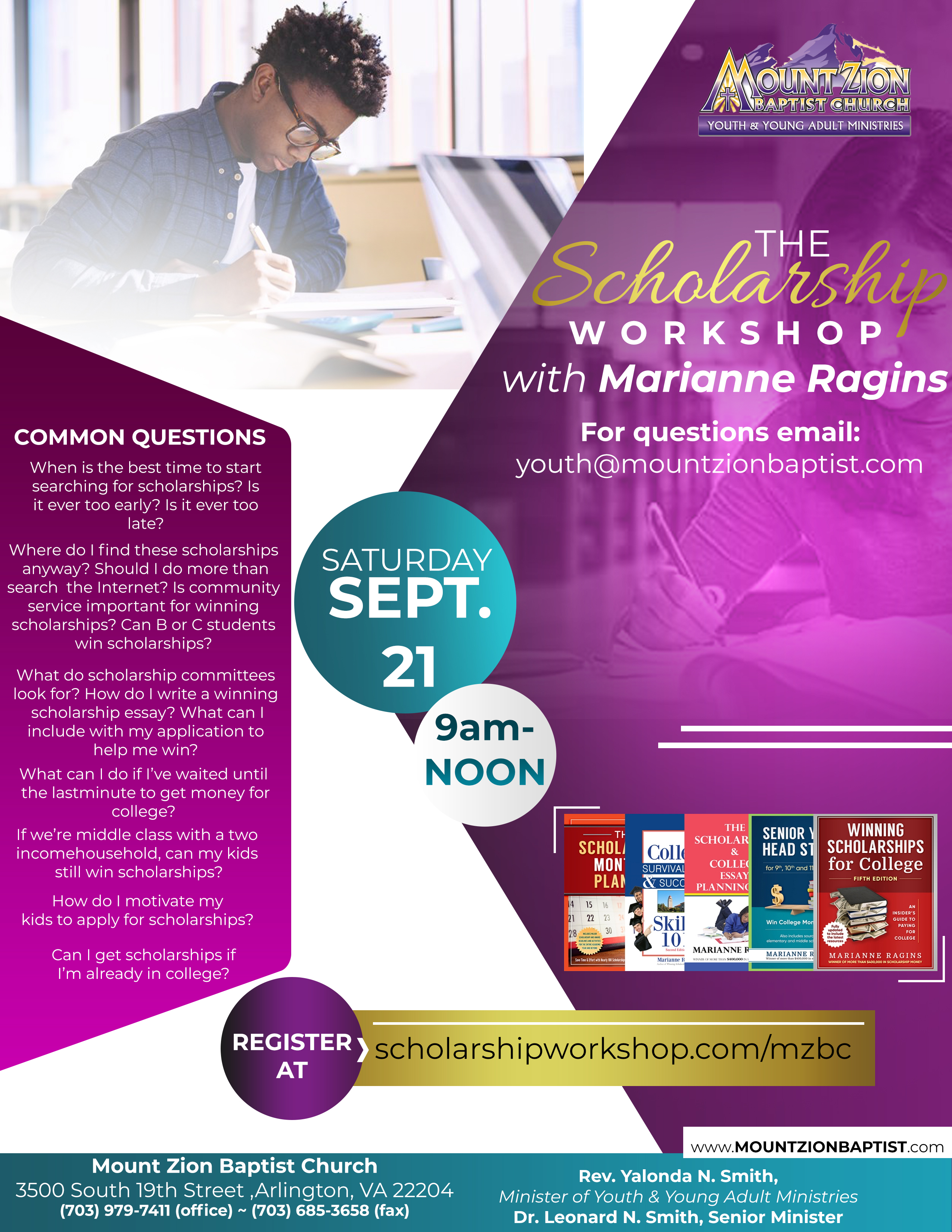 ABOUT THE WORKSHOP LEADER, MARIANNE RAGINS
In Marianne Ragins senior year of high school, she won over $400,000 in scholarships for college. As perhaps the first student ever to amass nearly half a million dollars in scholarship money, she has been featured in many publications including USA Today, People, Newsweek, Money, Essence and on the cover of Parade. She has also made hundreds of radio and television appearances on shows such as "Good Morning America," "The Home Show," and the "Mike & Maty Show."
Ragins is the author of the highly successful Winning Scholarships for College: An Insider's Guide, College Survival & Success Skills 101, and other publications. She is the president of The Scholarship Workshop and sponsor of the Leading the Future II and Ragins Braswell National Scholarships. Ragins is an experienced motivational speaker and lecturer who has traveled nationally and internationally conducting The Scholarship Workshop presentation and giving other motivational seminars and speeches.
Marianne graduated Summa Cum Laude with a Bachelor of Science from Florida A&M University and received an MBA from George Washington University. Both her degrees were entirely funded by scholarships and other free aid. Marianne is originally from Macon, Georgia and currently resides in northern Virginia.
Coming Soon! Register NOW!